S3 Training Soccer
S3 Training 2017-18
Former MLS and International Professional / US Men's National Team Player/ ACC Player of the year/ soccer player Jeremiah J. White has developed the S3 training program for youth soccer players. The S3 program is designed to improve ball mastery, speed, quickness, strength and agility in two sessions per week. S3 has been designed with injury prevention as its starting point.
The facts are, coaches have a limited amount of time to train their teams and can not be expected to use that limited time to focus on the type of training that S3 offers. S3 is a very unique program in that the players will be coached by a uniquely qualified instructor and will receive training that will be focused on individual development, not team performance.
Soccer is an evolving sport where speed, skill, endurance and strength are critical to being able to perform at a high level. During the course of a game, there are many foot races and physical duels that tactics and systems can not account for. When it comes to winning individual battles you have to be as physically prepared as possible. The stronger, quicker, faster and more technical you are, the more likely it is that you will win your battles. Unfortunately, there are no quick fixes for building these attributes.

IMPORTANT!
* 9AM -10AM sessions on SATURDAY will be strength, speed, agility and injury prevention training (Stretching and hip/ groin/ Abdominal/ and back exercises)
* 10AM - 11AM sessions on SATURDAY will be 100% dedicated to technical training using my curriculum.
* 9AM -10AM sessions on SUNDAY will be 100% dedicated to technical training using my curriculum.
* 10AM - 11AM sessions on SUNDAY will be strength, speed, agility and injury prevention training (Stretching and hip/ groin/ Abdominal/ and back exercises)
* The program will be capped at 60 participants total
* Players will train Saturday AND Sunday.

* There will NOT be an option to join one segment of the program. Participants must sign up for the entire program and decide which days they wish to participate
* PLEASE DON'T HESITATE TO TEXT ME WITH ANY QUESTIONS. I WILL REPLY WITHIN 12-24 HOURS. 484 849 1008
* The cost is $200 per month

LOCATION!
* SOFIVE SOCCER CENTERS ( 46 CHURCH ROAD, ELKINS PARK PA 19027) WEBSITE - https://elkinspark.sofive.com/
* This location has a state of the art lounge with large screen televisions, internet access, a food bar and drinks (available for purchase).
* There are wide open views for parents to observe training
* There are beautiful turf enclosures with organic filling (non-rubber)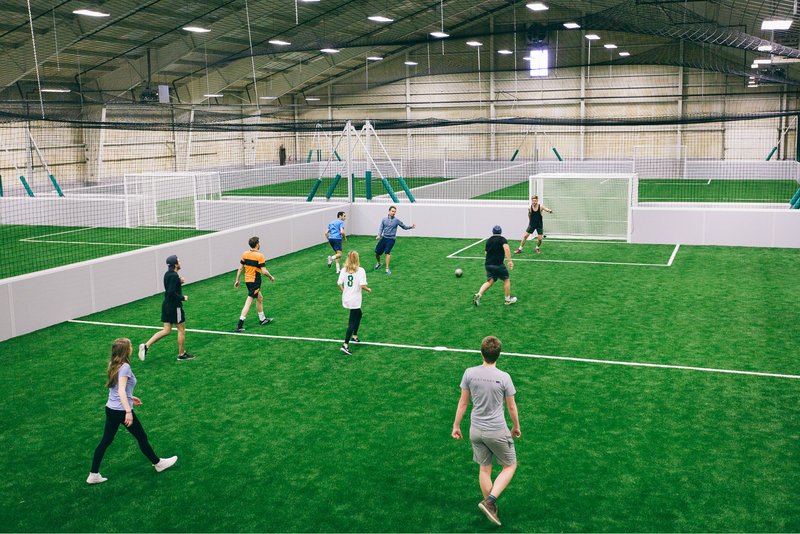 .
Q & A
Q: Can S3 help address the negative effects of sports specialization?
A: Yes! A large portion of our training is designed to ensure that soccer players maintain muscular symmetry and balance. The majority of soccer athletes that join our program are quadricep dominant. As early as middle school, repetitive start and stop sprints that occur in soccer and futsal exacerbate muscle imbalance. As a result, they are at a greater risk of sustaining hamstring injuries and catastrophic knee injury. Another major issue that has come to our attention in the last few years is that many youth soccer players land with their foot externally rotated while sprinting. We find that soccer athletes lack sufficient internal hip rotation with their non-dominant leg. This is due to the fact that soccer players receive passes with an externally rotated foot. Landing with an externally rotated foot impacts an athletes ability to accelerate and leads to groin injury or worse.

Q: Can S3 help my child get quicker, run faster and jump higher?
A: Absolutely! However, despite many marketing claims, progress does not come easy or overnight. Through hard work and a BALANCED training program, an athlete can become faster and jump higher. Our programs are a combination of form running and plyometric exercises performed in concert with functional strength training. All programs are customized to meet age appropriate needs.
Q: How does S3 training help my child improve his/her soccer technique?
A: We believe that players should manipulate the ball as often as possible. Pick up soccer and team training are very important parts of developing soccer intelligence and creativity, however we believe that players need time to focus on specific technique and execution. Many club training environments do not focus on refining core technical skills and we believe that the S3 program ensures that players are receiving 1,500 to 2,000 quality touches per combo session.
Q: My child is 12 years old. Is that too early for him/her to start speed and strength training?
A: We take into account the physical maturity of each athlete when customizing all of our programs. Before using external resistance, an athlete needs to be able to efficiently control his or her body weight. Through exercises like pull-ups, push-ups, body weight squats, and step-ups, the athlete not only gains strength safely but these movements also develop balance, coordination, and the other skills needed for competition.
Our speed programs for younger athletes focus on teaching athletes the proper sprint mechanics (e.g. arm swing, leg action). Since bad running habits are hard to break, an athlete who learns the correct techniques when they are young and continues to practice them throughout their career will have a clear advantage in maximizing their potential.
Q: I have a daughter, is S3 suitable for both girls and boys?
A: Definitely. A balanced strength training program is critical for female athletes both from a athletic and injury prevention perspective. For example, the majority of female soccer players we have worked with have extremely weak and inflexible hamstrings compared to the strength of their quadriceps. This strength ratio imbalance is one of the leading theories behind the increasing number of severe knee injuries being seen in female athletes
---
Sold Out

Individual Fees

Regular

700.0

Payment Plans Available